"If you think it's expensive to hire a professional to do the job, wait until you hire an amateur." Red Adair
Texas Consumer Protection Inspections for the Right Price! Performed By a Professional Master Inspector®
Avoid becoming a Screwed Consumer © 2022
What you don't know can harm you, your loved ones & your bottom line!
Thoroughly inspecting beyond the human eye...
You deserve the serious fact finding inspection only I can provide...
If you are purchasing or selling a property on your own or you were smart enough to hire the right Realtor to assist with selling or finding the "perfect property". Why not assure the integrity of the entire property, components and your final decisions by hiring ADAIR INSPECTION.
Investigative Inspections plus Factual Property Reports equal Informed Investment Decisions
Commercial-Residential-Industrial-Infrared Thermography (IRT) EVALUATIONS-INSPECTIONS-CONSULTATIONS and more Call BARRY @ 972.487.5634
to schedule your Appointment
Drain clog
Electric short
Hurricane
​
Damaged flue
Insulation void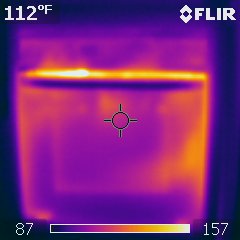 Brand new oven door seal damaged...These are just a few examples of what IRT technology can see, that humans can't...WHAT are the other inspectors missing?
INDIVIDUAL SYSTEMS FEES START AT JUST $500.00*
* Call for your quote.
Click to find out how others have saved many thousands of dollars.
Ask yourself this: With over 300 inspector choices in the DFW market, "Why does the owner of a prominent real estate office, 45 miles away, hire me to pre-inspect the houses he lists and those of his three grown children?" and
"Why does J. Gregory Homes hire me to pre-inspect their brand new homes for Quality Assurance?"
What do you really know about the property you are buying?

Will a Professional Master Inspector® Texas professionally licensed tradesman with over 40 years of hands-on experience perform your Residential, Commercial, EIFS, Construction Phase, Builder Warranty, Foreclosure, and Moisture Intrusion Inspections?
I offer you this and it costs no more when compared to unobserved deficiencies, repairable or overlooked negotiable items! Low-ball Price Shopping your inspection is Ill Advised!
Considering the bigger picture. No inspector can promise a property to be in perfect condition. My promise to you "I will do my very best to factually inform and educate you about your property. I'll thoroughly investigate while others just look around." And if I can't find repairs or defects equal to or greater than my fee, "You don't have to pay for your inspection!" Not a single client has been able to obtain a free inspection, yet, Est. 1998.
I have dedicated myself to my clients in all phases of the commercial, residential and pool-spa construction industry since 1965 so in 1998 Property and Real Estate Inspections became the natural career progression for my experience and expertise.
Credentials, Certifications, and Associations
Exterior Design Institute EDI EIFS MA-TX #39 (Specialized Inspection)
One of a very few Certified EIFS Third Party Inspector and Moisture Analyst in Texas (Specialized Inspection)

Texas Infrared Certified Level I Thermography (Specialized Inspection)
National Association of Commercial Building Inspectors and Thermographers™ Member ID: 0710-00018-TX
NSPF CPI™ #75-221486 National Swimming Pool Foundation (Specialized Inspection)
NSPF CPO® #75-221486 National Swimming Pool Foundation (Specialized Inspection)
Moisture Intrusion Investigation (Specialized Inspection)
Wells & Septic Systems (Require specialized inspection NOT OFFERED by ADAIR INSPECTION)
Taking a Rational, Educated Approach to the Inspection Process and the Science of Building in the 21st century
"There are no problems, only opportunities to find solutions"
Pre-Listing Commercial Only (Seller's) Inspections
This type of inspection is usually performed by a seller before a property is listed or announced for sale. The property owner will perform a Seller's Inspection to determine what damage or other problems exist with a property in order to determine factors such as fair market value, discount values, or any pre-listing expenditure necessary to increase the value and desirability of the property.

Pre-Purchase Commercial Only (Buyer's) Inspections
This type of inspection is usually performed after a property has been put on the market by a seller but before a potential buyer has taken possession of the property prior to the closing contract. The buyer will usually sign a contingency agreement with the seller prior to ordering this type of inspection. If a property fails to meet the buyer's expectations as a result of the inspection, then the sale may fall through. In many cases, a Buyer's Inspection will help both the buyer and the seller to identify damage or other problems that may exist with a property so that both parties can either renegotiate the selling price or the seller's responsibilities to repair the property at the seller's expense prior to the final close. Even if the seller has already performed a Seller's Inspection, buyers should still perform their own inspections to prevent "seller's bias" in any shape or form.

Warranty Inspections
This type of inspection is performed prior to the expiration of your home warranty. It is used to take advantage of the features and benefits of your home warranty to assure that necessary repairs guaranteed under your warranty are executed should a damage or problems be discovered.

New Construction (Builder) Inspections
This type of inspection is usually performed immediately after your new home has been built and is considered "ready" for occupancy by the builder and appropriate legal authorities (such as a zoning or code inspector) but before your closing date.

Periodic Maintenance Inspections
This type of inspection is performed every two years to assure the health of your family and the safety of your real estate investment. Periodic Maintenance Inspections are necessary to assure the integrity of your structure in-between storms and droughts, to identify possible indoor pollutants (such as radon, CO, CO2, mold), to check the building's integrity that may compromised by cracked beams or foundations, to visually inspect for wood-destroying insects, and more. Any these situations can contribute to decrease home value or pose a physical risk to your family if not identified in time.

Pre, Phase and Post Renovation Inspections
This type of inspection is performed prior to engaging in any renovations of a property. These inspections help you to assess potential problems that may affect the cost or difficulty of the renovation and adds the assurance of quality control as the work progresses.

Investigative Inspections
This type of inspection is most-often used when a homeowner feels that a problem may exist. For example, you may want to engage in an Investigative Inspection after unusually severe weather, if you experience and odd smell in your home that cannot be identified, or if you notice unusual pest and insect activity. In many cases, Investigative Inspections can help homeowners to catch problems before they become an expensive or irreversible liability.
In the property inspection business, there's this little homily, which has been around for a long time. From a real estate agent's point of view, there are three types of inspectors:
The inspectors they recommend when they're acting as the seller's agent. These are the under-educated, cheap and compliant inspectors. They comprise 100 percent of the 95 percent who ignore their customers' interests, and live or die by their ability to help agents sell houses.
The inspectors they recommend when they're acting as the buyer's agent. Truth be told, they're pretty much the same as the 95 percent described above.
The inspectors they recommend to their relatives. They likely comprise less than 5 percent of the property inspectors in any given area. These are the inspectors you want. They're the ones agents never recommend, except when a friend or relative is buying a property, or they're buying a property themselves.
When it comes to property-buying time, you want the property inspector that all the builders—and almost all of the real estate agents—hate. He'll be the most expensive guy in town and worth every penny. I'm a 5 per-center and work only for my clientele's best interest.
Service Area
I Inspect Texas for the right price and All of These Cities!
Abilene - Addison - Alba - Allen - Alma - Anna - Aransas Pass - Argyle - Arlington - Arp - Athens - Aubrey - Austin - Azle - Bedford - Benbrook - Bonham - Bowie - Bridgeport - Bullard - Burleson - Canton - Carrollton - Cedar Hill - Celina - Cleburne - Cockrell Hill - Colleyville - Comanche - Combine - Commerce - Coppell - Corinth - Corsicana - Crandall - Crowley - Dallas - Daingerfield - Dalworthington Gardens - Dawson - Decatur - Denison - Denton - DeSoto - Duncanville - Eagle Lake - Eagle Mountain - East Tawakoni - Edmon, OK - Ennis - Euless - Everman - Fairfield - Fairview - Farmers Branch - Farmersville - Fate - Fayetteville - Ferris - Flower Mound - Forney - Fort Worth - Friona - Frisco - Gainesville - Garden Ridge - Garland - Glenn Heights - Glen Rose - Granbury - Grand Prairie - Grapevine - Greenville - Gun Barrel City - Gunter - Heartland - Heath - Hemphill - Hickory Creek - Highland Park - Highland Village - Hurst - Hutchins - Irving - Josephine - Justin - Kaufman - Keene - Keller- Kenedy - Kennedale - Kilgore - Killeen - Knox City - Krugerville - Krum - Lake Bridgeport - Lake Dallas - Lakewood Village - Lake Worth - Lancaster - Lantana - Lavon - Lewisville - Little Elm - Live Oak - Log Cabin - Lone Grove, OK - Lone Oak - Lubbock - Lucas - Mabank - McKinney - Malakoff - Mansfield - Maypearl - Melissa - Mesquite - Mexia - Midlothian - Millsap - Mineola - Mount Pleasant - Murphy - Navarro - Nevada - Nichols Hill, OK - North Richland Hills - Oklahoma City, OK - Omaha - Palmer - Pantego - Paris - Parker - Pilot Point - Plano - Poetry - Point - Ponder - Port Aransas - Pottsboro - Princeton - Prosper - Quinlan - Quitman - Red Oak - Richardson - Richland Hills - River Oaks - Roanoke - Rockport - Rockwall - Rowlett - Royse City - Runaway Bay - Sachse - Saginaw - Sanger - San Antonio - Seagoville - Seven Points - Shady Shores - Sherman - South Fork Estates - Southlake - Sterlington, LA - Strawn - Sulfur Springs - Sunnyvale - Terrell - Texarkana - Texhoma - The Colony - Tioga - Tool - Trinidad - Trophy Club - Tyler - University Park - Valley View - Van Alstyne - Venus - Waco - Watauga - Waxahachie - Weatherford - Weslaco - West Tawakoni - Whitesboro - White Settlement - Whitney - Willow Park - Wills Point- Windom- Wolfe City - Wylie
Serving These Counties:
Collin, Cooke, Dallas, Denton, Ellis, Fannin, Grayson, Henderson, Hill, Hunt, Hutchinson, Johnson, Karnes, Kaufman, Navarro, Rockwall, Tarrant, Van Zandt
​
If your city is not listed, don't worry I'll find it and add it to my Service Area.
​
adairinspex@hotmail.com
​
972-487-5634